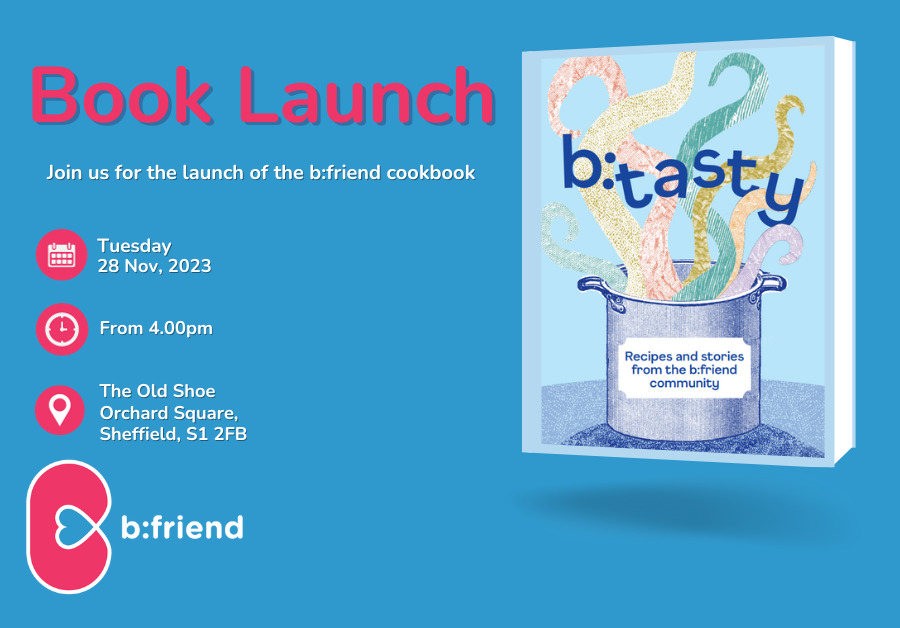 b:tasty Cookbook Launch
28/11/2023
4:00 pm
The Old Shoe Orchard Square, Sheffield, S1 2FB
Join us for the launch of b:friend's cookbook, b:tasty – Recipes and stories from the b:friend community

"These recipes are more than food; they're a taste of shared stories, memories and the importance of togetherness."
(Rahul Mandal, BBC Great British Bake Off Winner, 2018)
Come along to celebrate the launch of our charity's very first cookbook, b:tasty – Recipes and stories from the b:friend community! Join us at the Old Shoe Bar in Sheffield from 4pm till the evening on 28 November.
We know that food is a great unifier, and we created this cookbook to capture the special recipes, memories and stories passed down through generations. It is a great collection of delicious recipes from our older neighbours, but it is much more than that. These are incredible stories from our community, connecting past and present.
A minimum of £7.50 from each book sale will go towards supporting b:friend's work to combat loneliness and social isolation experienced by older neighbours.
This event is free, but please help the organisers by RSVPing below.